Orange Culture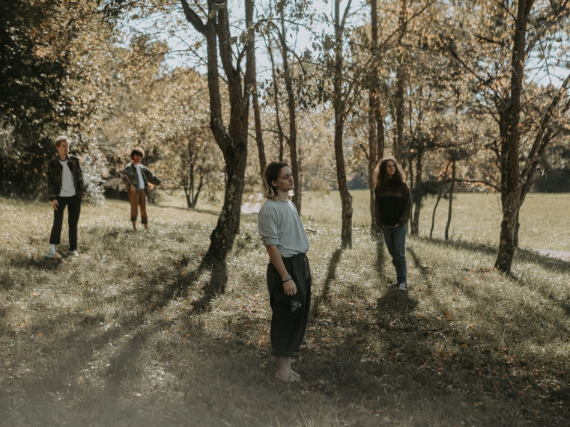 Orange Culture is a hard-hitting rock band from Salem, Virginia. Their combination of original music, showmanship, and their unique sound allowed them to develop a rabid following of young moshers and headbangers from the ground up. Their growing reputation landed them opportunities to play for larger crowds, opening for the likes of B.o.B, Kendall Street Company, and Floydfest 2021.
The boys in Orange Culture had used their time in quarantine wisely, recording and producing their first full-length effort, OCCO. From the opening call of Komorebi to the final disintegration of Ambition, Orange Culture pushes the boundaries of indie music in exciting ways. On so many standout tracks, including Sebastian, Softness of the Glow, Fake Non-Fiction/Salt and Liquor, and Ashes, the alt rockers proved they're a sum of their influences, fusing pop, jam, prog, folk, and classic rock to their already potent brew of psychedelic punk.
Founded in the winter of 2019, while most of the band members were still in high school, Orange Culture, and fellow bands like The Snapping Turtlenecks, revitalized the Roanoke Valley youth music scene, playing a series of high energy shows across Southwest Virginia.
With social media streams and views of their music and video posts numbering over a million across their Spotify, Instagram, TikTok, YouTube, and Facebook pages, Orange Culture has made fans all over the United States, as well as the Czech Republic, Russia, Germany, Australia, Canada, Japan, and the UK.
After some early lineup changes, the band settled into the rhythm section of Reid Jepson (drums) and Landon Carder (bass), who lay down a tight, steady groove and dynamic backbeat for the sonic soundscapes of guitarist Charlie Lewis. Lyricist and lead vocalist, Griffin Boucher, sings with a unique voice, writing stories well beyond his teenage years, about a generation struggling under the sun in a fragile world. On OCCO they also added horns, courtesy of 16-year-old brass phenom, Tatum Jepson. But one thing about the restless, young band is unmistakably clear...Orange Culture plays with the confidence and energy of a band out to breathe new life into Rock and Roll!